Free Samples To Dental Offices!
Please try the samples for yourself.
The POH Sample offer contains:
One Spool of Classic 490 White Dental Floss, in NoWax™, The Original.


One Spool of Percept® 630 Black Dental Floss, in LiteWax™.


One Toothbrush, #1


One Toothbrush, #

7
and
One Strip of Ten Disclosing Tablets

The #7 is a step away from the typical full head toothbrush on the market today.
The #1 is moving further into the realm where plaque sits undisturbed.

By the way, here is a link to teaching the Bass Method. By Dr. Bass.

CLiCK


Too many people get it wrong.

We may contact you once by email to ask your opinion. No long survey, just a quick note asking for your professional opinion. This is very important to POH. We pay attention.
POH will bother you not with email. We do not do unsolicted email. Ever.
If you prefer not to fill out our online form, please, call us.
1.800.331.4645 & request the monthly online sample offer.
Once

your patient walks out of the office door, it will be one hundred, seventy-nine days or so until you see them again. Motivating a patient to look after their teeth during that time can be one of the most difficult things to do. Helping Dentists and Hygienists teach their patients effective personal oral hygiene has been our core business for over fifty years. Effective personal oral hygiene has to be taught, and nobody has a better chance at being successful than the dental team. Improperly used, a toothbrush and dental floss can be nothing more than a time waster. Proper personal oral hygiene on the other hand will effectively prevent caries and gum disease. Developing the mind set and skills to master the Bass Method is easy. POH has the experience.


You May Remember These From Your Childhood
Plaque disclosing tablets will certainly get a patients attention. Like a bright red road map to where their bugs live. Swishing one of these around, inspecting in a brightly lit mirror and explaining to a patient that the remaining red stain is where they missed will help to aim their efforts. No guess work, clean off the red. Simple. Effective.



A Little Bit of History




POH has been supplying toothbrushes and dental floss to preventive dental offices all over for more than fifty years.

Dental offices that use POH know that preventing disease is preferable to suffering from it and that their patients' teeth are precious. The ability to teach a patient how to prevent the diseases known as tooth decay and gum disease is profound.

Today there exists a large group of dedicated clinicians who prefer to never again fill another cavity.

Prevention is paramount.

Robert Jones, D.D.S., the founder of POH, had a rather unique method of patient motivation. Turns out, it built his practice better than anything before.
CLiCK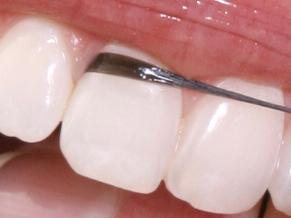 Percept® BLACK FLOSS
All Dental Flosses Are Not The Same


The construction of POH dental floss is based on clinical efficacy in disrupting plaque, or what Dr. Bass used to call 'Material Alba'. POH floss is not designed for ease of assembly in a factory, or to slide over problems on teeth. Each spool of POH dental floss is hand assembled and inspected. Made here in Tulsa.

The exceedingly

fine, multi-filament design

of POH dental floss acts as a cutting edge to slice through plaque very well, and together with hundreds of other filaments POH floss entraps and removes the loosened material.

Cosmetic and aesthetic dental practices use our floss as a diagnostic to check margins and restorations to ensure all their work is perfect.



Seeing Is Believing


Percept

®

Black Dental Floss - One of the best teaching aids to show a patient the good they are doing. Percept

®

visually contrasts with plaque, which allows a patient to see the results of their efforts and is a powerful and positive reinforcement.

Plus, Percept

®

does not readily show any blood from debridement, which tends to alarm a new flosser enough they quit trying.


Simple & Effective


POH toothbrushes adhere to the specifications outlined in Dr. Bass' work. POH toothbrushes use the highest cost, best quality Dupont Tynex

®

soft nylon for the bristles, then we carefully polish the tips of each bristle. Both end rounding and soft bristles were innovations to the toothbrush market and one of two reasons POH was started.

The bending strength and thickness of the nylon bristles, the length and the diameter are carefully controlled.

All this to ensure that the toothbrush is as perfect as can be.

The POH handle is designed to ensure that the fine motor skills used in the Bass Method are not lost, and also to make sure that too much leverage is not imparted. Held with the fingertips, not a fist, proper manipulation of the POH toothbrush is easy and gentle.

Dr. Bass said that "There is no good excuse for crooked, twisted or other distorted shapes of toothbrush handles." POH remains true to his reasoning.

Sometimes Less Really IS More
Tightly spaced bristle tufts are good enough for the broad surfaces of the enamel. To really apply the tips of the bristles to the sulcus and the cusps of a patients dentition, having the bristle tufts spaced a little apart allows gentle and safe disruption and disorganization of bacterial plaque.

POH offers a variety of bristle tuft layouts that offer a choice for all your patients.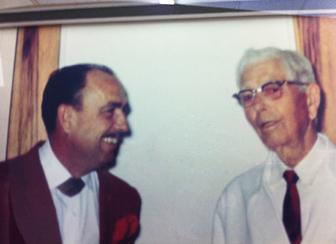 Dr. Bass, R, Dr. Jones, L
"Doc" Jones was invited to write the first chapter on a ground breaking textbook on Preventive Dentistry. He throws down quite a challenge to his profession.
CLiCK
Do you believe you can trust testimonials? Good.


We have a quite a few. Like:

Dr. Patricia H, Atlanta: "Fell in love with this floss at a CE given by a periodontist".

Regina B., RDH, Dunedin FL: "I was first introduced to POH floss at the dental school for hygiene that I was attending back in 1976. I have been using for myself and recommending your POH floss to all of my many patients, hundreds of patients ever since!! Love Your Floss!!"

POH has been collecting patient comments since 2007. Here is a link to March 2014 patient's giving their "POH Story" They make for a fun read. Here is last months edition.
CLiCK
Since Day One, Made In The USA
Soft, softer, softest. POH Toothbrush Bristle Tuft Layouts
The diameter and length of the nylon, the number of bristles in a tuft, and the number and proximity of tufts together all determine the relative stiffness and resistance to bending of toothbrush bristles. Bristle tufts that are closer together have a generally firmer feel than one with tufts spaced further apart. Fewer bristle tufts spaced farther apart have the opposite effect.
POH offers the above bristle tuft layouts, sure to fit the needs of any patient.

Bristle tuft layout for POH toothbrushes - L to R, the #1, 2, 3, 4&5, 6, 7 & 8
Medicine, not marketing

There are dental offices around the world who have succeeded in teaching their patients how to clean and keep their teeth for life. In those patients who diligently carry out their personal oral hygiene every night before bedtime, the result is improved oral health and true, effective prevention of dental disease. Those offices taught their patients the Bass Method of personal oral hygiene and used POH toothbrushes and dental floss. What is more, offices like those have been doing so since 1961. POH believes in Dr. Bass, his method of personal oral hygiene and our track record so much we want to share it.

Telling a patient to brush and floss is one thing. Showing them the best way to do those things is better. Giving a patient a valid and lifelong reason to perform their personal oral hygiene on a daily basis is a different endeavor entirely. Thousands of Dentists and Hygienists over the last fifty plus years have successfully developed a concord with their patients, instilling in them the knowledge of personal oral hygiene. Your patients depend on you to teach them how to care for their teeth.


Professional courtesy discounts to dentists, hygienists, dental schools.

No contracts.

Please call 1.800.331.4645 if you have any questions.
Don't forget, send your patients to the BuyPOH online store!
CLiCK
POH QUALITY
POH could not be sure of the quality of our products if we hired others make them. Our toothbrushes and dental floss are not mass merchandise products. We hand assemble each spool of floss to ensure that when it leaves our possession it is as perfect as one could make it. We mold the handles, insert and polish the bristles of our toothbrushes and package our products here in Tulsa, Oklahoma. POH is certified to the ISO 9001-2008 quality standard.
Dr. Robert Jones, the founder of POH, would personally take the time to teach each patient why they needed to clean their teeth. Doc would use a phase contrast microscope to show the living bacteria in a patients mouth, so they see what they are up against.

Then, he would personally brush and floss a patient's teeth so they would know by feel what is proper and what is not while using the Bass Method.

Then as now, the Bass Method of personal oral hygiene is effective. Un-modified.



The original dental floss designed and constructed to the specifications for the optimum characteristics of dental floss.

A very fine multi-filament nylon floss, tried and true for over fifty years.



Classic Dental Floss

Made of hundreds of uniform and soft 0.0005" (approximately) diameter nylon filaments.
These tend to spread out and fit deeply and gently into the gingival crevice.
The multiple filaments entrap and remove plaque, disrupting and disorganizing bacterial colonies.
The result is effective personal oral hygiene.



Percept®

Black Dental Floss

Percept® black floss provides a high color contrast against the white plaque

and the tooth's enamel. Useful for teaching proper flossing technique and clearly demonstrating plaque left behind with brushing alone.


Only from POH!



P.O.H. toothbrushes conform to Dr. Bass' design specifications, and we use the highest grade Dupont Tynex

®

nylon for our bristles. Since 2003, our manufacturing facility in Oklahoma has earned ISO 9001 - 2000, and the 9001 - 2008 quality management system certification from one of the toughest registrars in the world.

Your patients depend on you, and you can depend on P.O.H. to deliver consistent quality and service.

Real prevention is in their hands with

P

ersonal

O

ral Hygiene.

Always Made In The U.S.A!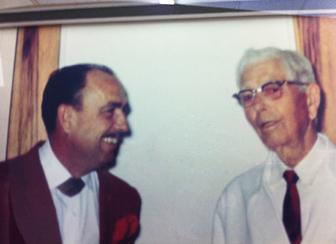 Dr. Robert Jones, L, Dr. Charles Bass, R in front of Dr. Bass' office at Tulane
Celebrating more than 50 years of Personal Oral Hygiene
It is hard to believe more than fifty years have gone by since my father, Robert Jones, D.D.S., started POH on our dining room table. Dad was one of the first of his generation to learn, practice and teach the prevention that Charles C. Bass, M.D., taught.
Our toothbrushes and dental floss are not mass merchandise products. We hand assemble each spool of floss to ensure that when it leaves our possession it is as perfect as one could make it. We mold the handles, insert and polish the bristles of our toothbrushes and package our products here in Tulsa, Oklahoma.

We could not be sure of the quality of our products if we let others make them.
To your patients oral health,
Robert G. Jones II
President
Oral Health Products, Inc.
All rights reserved. Oral Health Products, Inc. © 2023